Stafford Triumph Show!
An amazing selection of cars that words cannot describe! Click here for a full gallery!
The Birmingham motor show
Not too many words here just lots of eye candy!!!


Look at the work that has gone into this - no wonder they're smiling!
Of course not just the cars caught our eye!
Back to the Triumphs!
Some little bubbles!
Our Biggest Fan Ever - or just plain devoted?

Shane from Sheffield. He has rebuilt various Triumphs and deserves recognition. He is so devoted he has the lettering for TRIUMPH on his arm!
Here you will find a selection of downloads in a variety of formats. Please note that the audio contains language which some individuals may find offensive.

Water Feature

We had just taken delivery of a metallic green spitfire, with white wellers and a twin pipe exhaust mechanically sound. It stood really well and looked very good - would have made a nice easy summer running project. We had a phone call from a nice sounding fella who pretty much tore our arms off for this car. We though we would be seeing a full chassis up rebuild - have we ever been so wrong? Instead we were informed that the car was to become a water feature in someone's stately home. The feature is an attraction at the tour of Wallington House (Northumberland) until 26th October 2002. What are your views? Do you agree with this balshy display of art? Or is it a farce and an insult to all Triumph enthusiasts? E-mail you thoughts!
R.I.P Rot in Peace!

We had a call from a gentleman named Bob. A surprisingly easy location to find for once. He came and met is in a car park in a Porsche 911. We knew this man had taste. He lead us back across the town in the direction we came from and lead us off down a farm track. Whilst walking to the rear of the buildings we were greated by a Lynx Jaguar 3.6 prototype number 1. Our jaws hit the floor! We thought we were in for an easy picking up of a MK2 - how wrong could we be! The sight we saw made our hearts sink.







The car was a two owner car from new with not very many miles on the clock. It had been owned by an old lady whose farther had it from new. Here in Bobs yard it came to sit for a while. We initially thought the car would be seized rock solid. To our delight it rolled more freely than some of the driving cars we have handled in the past. A quick yank with the big black beast (Nissan Patrol) and we towed it for it's last trip on it's wheels through the farm yard to the trailer on which it would be towed away to it's death.





As you have probably seen in the background of the above pictures are many cars buried in time to be forgotten. Including a Mercedes that was used in two James Bond films. Countless BMW's and not to mention the Sunbeams and Rovers etc. We thought this made an elegant backdrop to the whole process!











Although we could have stayed looking at these memories for ever we had to leave them rotting in peace. If each car could talk they would tell stories of Sunday rides to the coast with the kids and swarve dinner outings with real lords and ladies, all within the time of stress free motoring from the past. Don't you just wish you were back there in the memories.





Once the car was on the trailer it was off to the Graveyard - it's days of Rotting in Peace are over! We only wish we could breath a new life into every classic car left to rot in peace!

This is why Dave works for us!

This is a series of pictures of his own triumph project.








Devil Car - this car is cursed, we don't want it any longer!
This car came to us with a serious piece of history. It has been stored since 1979 with a genuine 50,000 miles on the clock since the last owner bought it. Very original. The owner died and passed the car over to his wife. The wife was handling the sale of the car and died. The son then took over the sale of the car for the solicitors. He then unfortunately passed on and was re-untied with his parents. As a result the car came into the possession of the graveyard. We are now taking it upon ourselves to pass the car onto heaven so that the trio may be rejoined with the car that has cursed them all! Always remember there are good cars and bad cars, the metal that comes from the earth sometimes comes from unpure ground where bad things have happened. So if your car keeps breaking down it's metal was probably from a bad patch of ground. If your car runs all year long with no troubles the metals must have originated from good sacred ground and your truly blessed from above.





What have we stumbled across here?
We were invited to Birmingham to purchase a garage collection of Triumph cars. When we arrived we were greated by a rather battered lorry.





Upon opening the garage - shock horror the dusty smell of ten years unopened hit us. Richard was getting more and more excited as the door way was cleared to reveal an absolute time warp!!









How many cars did you find? We discovered four, MK1 GT6, Early MK4 spitty 1300, 1500 spity, GT6 MK3 in bits on it's side. Bondequip in as many pieces as a smashed mirror! Many other Triumph parts were scattered about creating a lovely atmosphere of a forgotten hobby.

The first car to be removed from it's dwelling was a nightmare, the wheels were seized, so a quick wallop with a hammer had three wheels rolling and grinding - bonus! We loaded it onto our aging trailer and filled the poor thing with as many parts as we could cram in. We wedged things under the car and tied a bonnet to the back of the trailer. People must have wondered what we were up to as the trailer was being pulled by a lovely shinny new Nissan Patrol! (may the old one Rest In Peace).







The following evening we returned for yet more punishment. With our master plan - Carl followed with his lorry and his ability to lift and move things with ease. To rescue the next suffering spitty we had to cut down a tree which had taken root between the car and the exit - don't you just love mother nature?





Next up for eviction from the big triumph garage was the GT6. To remove this rust bucket *cough* wonderful example of how rusty these damn cars get *cough* we had to cut the middle roof support out! Mark volunteered to risk wearing the roof and hacked away with a saw more rusty than the cars we were trying to save.






The GT6 didn't want to play to our rules at all. We used the winch from Carls truck to drag the car out, however every inch dragged needed the car to bounced from the heavy front end over a foot or so. After many minutes of wrestling with the GT6's front end, it had been coerced into playing by our rules and no mercy was given to the car or Carls winch.







Off we trotted to get ourselves some fast food and much needed sleep. The cars are now living happily within the depths of the Spitfire Graveyard awaiting the deadly force of Chris and Dave to lovingly disembowel and decapitate the cars and place the pieces onto the shelves, hopefully one day our efforts and stress at taking the cars to a new home will pay off and the parts will be transplanted to help other needy patients.



When buying a spitfire always remember to bring something to take it home in. One customer came in bought a car and it just so happened that the truck he was in was just the right size for a Spitfire to sit in the back of - a borrowed forktruck later and a lot of nerves!





Feel free to pop into the Graveyard at any time to receive a quality haircut done by a professional - although we are still not sure what that profession is!




This car was hit by a drink driver at 80mph . After the accident the owner got out of the car and went to drink his sorrows away ten pints later and some grieving the car was passed onto the Graveyard team.
To enlarge a photo simply click on it then to return to this page use your browser's back button!
It was decided that the car should provide some fun before passing through the gates to be dismantled!
STEP 1 - Install a nutty driver!




STEP 2 - Floor it!





STEP 3 - Home made smoke screen...




Have you ever tried fitting a clutch? - you may find this audio file funny...





These video clips show the lengths the Graveyard is prepared to go to in order to provide another resident at the Graveyard. The files are quite large because we wanted to retain some of the quality of the original video.

The best way to view these files is to right click on each image and select 'Save Target As...' - save the file to your desktop (this may take a while depending on your connection speed), and then view the file off-line once it has downloaded.
| | | |
| --- | --- | --- |
| | | |
| Part 1 | Part 2 | Part3 |
| 12.6mb | 16.7mb | 23.4mb |
This is one of Richard's friends who liked to practice playing in the arches - good acoustics for it apparently!!!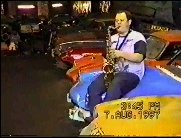 19.6mb